– by Najeeb Sayed – Sr. Director, Sourcing & Production for Tommy Hilfiger – Indian subcontinent.
At a very young age I realized that leadership is all about giving. As the glorious adage goes, "Some people are born great, and some inspire greatness," a great leader gives their all to influence action as opposed to merely authorising it. Be it while playing with your siblings or spending time with your family, the lessons of leadership begin at home. There can't be a better leader than your mother, who gives tirelessly and endlessly, only to guide our ways for our betterment. I currently live in Bangladesh with my family, and my better half, Rumana, is a role model for my children. She directs, plans, organises, and drives the values at home. Leaders give their time, give their advice, just give, give, and give selflessly. At the end of the day, a leader is someone who knows the way and goes the way with their team.
I have been in the fashion, apparel & textile industry for 23 years now and can easily distinguish between a good manager and a great leader.
Don't get me wrong, it is commendable to be good manager, but being a leader is a way of life. It is an in-built attitude and an inborn characteristic. Leadership skills can only be honed and reignited, they can rarely be created. This is why true leaders are not afraid to pass on the knowledge that they have. They do not fear being overtaken by their mentees. Leadership is not a position but an action. This is why a leader feels proud when a protégé rises up, as opposed to a manager who might feel threatened.
Back in 2001, when I was working in Tommy Hilfiger as a Senior Merchandiser, I was habituated to passing on my knowledge to my team. I never hesitated as this enriched and enhanced our work together. A peer of mine once told me, "Najeeb, don't teach everything to your juniors, even a Madaari (monkey trainer in Hindi) withholds a few tricks.'' I was mildly amused at this (unfortunately) common notion across corporate offices. My response was that I am not training monkeys, I am dealing with human beings and will pass on all that I know. Leaders are always secure about themselves no matter what. I believe that you cannot get what you deserve before your time or more than your destiny, then why the insecurity?
Leaders play a crucial role in translating vision into action. To do this, 'how' we say is more important than 'what' we say. The way you communicate can determine your success at work and in life too. A good leader must be authentic and genuine with their team. I firmly believe that you can't ever fake sincerity. You must say what you mean, and do what you say. Your role as a leader is to empower those around you. Listening then becomes a great tool to not just gain valuable information but to motivate others by making them feel acknowledged and recognised. Hence, listen to understand and not to merely respond.
Being in this zone, one has to lead by example. You are always being observed by your juniors, peers, and seniors – hence the consistency of behaviour is crucial. I was fortunate to have mentors like Arun Menon, Venu Nair, Bala Mallya, Alok Malhotra, and Mark Green in my career who shaped the way I thought. The most essential thing I learnt from them was how to communicate – be precise and to the point. Our lives are embedded in emails and when you write emails, you also have to anticipate the question from the other end, especially when you are writing to your boss or your line manager.
I can go on and on, but I will take your leave for now with a food for thought that has had a great impact on me:
"Leaders are like sunshine – they not only give you light but also and growth."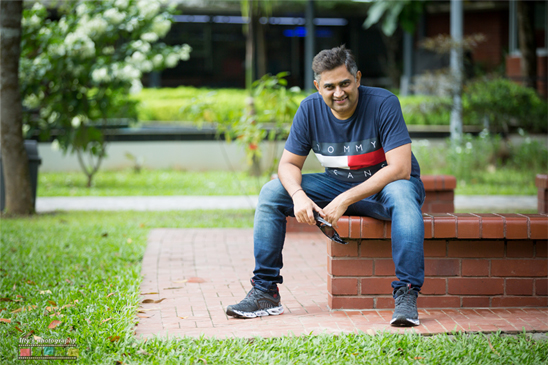 Disclaimer
These are the personal views of Najeeb Sayed as a person and do not have any connection with the company he is associated with.
Najeeb Sayed is a gamechanger in the Fashion & Apparel industry. He has worked with international brands and top designers to deliver pathbreaking styles on the global stage. He is currently the Senior Director, Sourcing & Production, at Tommy Hilfiger – Indian Subcontinent.
We will continue to present relevant news and interesting insights across industries with the help of our wide network, and the much-appreciated collaboration of our contributors. NKC is an end-to-end job solutions provider that bridges the gap between job seekers and employers. We have recently established a new vertical as job consultants in the education sector while continuing to be a forerunning fashion & textile recruitment agency and staffing company.